Progenesis dongle setup and license activation
Thank you for your purchase of Progenesis QI data analysis software.
Finding your license serial numbers
To get started analysing your own data, you'll first need to activate the license or licenses you've purchased (you'll have one per user of the software). The license documents form part of the package you will have received, each license being printed on a separate, card-backed sheet of paper (show me an example). They will be titled either "Single Seat User License" or "Single Network License".
Information about the licenses' activation is stored on a USB dongle (show me). Once activation is complete, this should be plugged into the PC on which you'll perform your analysis.
Activating your licenses
The following steps describe how to activate your Progenesis QI license(s) and can be performed on any PC connected to the internet:
When prompted, save the file to a convenient location on your PC.
Once the download is complete, double-click the saved file to install the software.
When the installation is complete, leave the "Launch Progenesis Dongle Licenser" check box selected; Progenesis Dongle Licenser will then launch automatically.
When Progenesis Dongle Licenser launches, start by entering your contact details. Be sure to enter accurate and complete information, as this will be used for your support contract.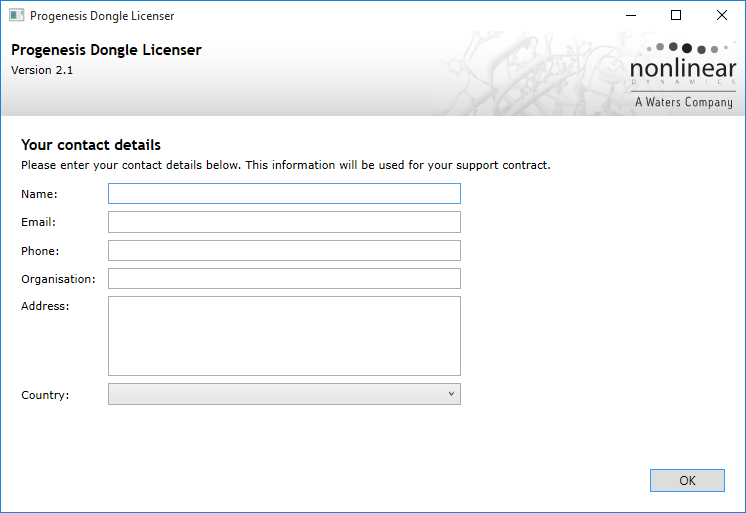 Next, if you have not already done so, you will be prompted to connect your dongle.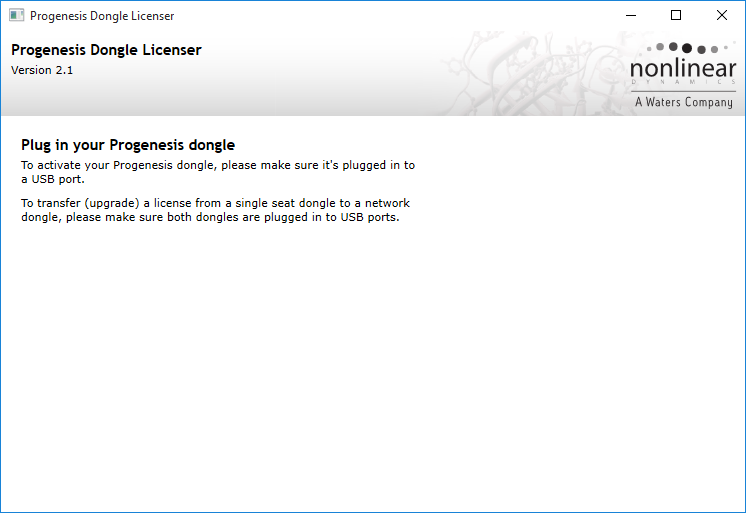 Plug your dongle into an available USB slot in your PC; upon doing so, the screen will change, confirming that either a single seat or network dongle, is connected.
Click Program dongle... and then enter the

Serial #

from your license sheet into the text entry box. Once done, click the

Use serial number

button to activate that license. Be sure to enter only one serial number at a time.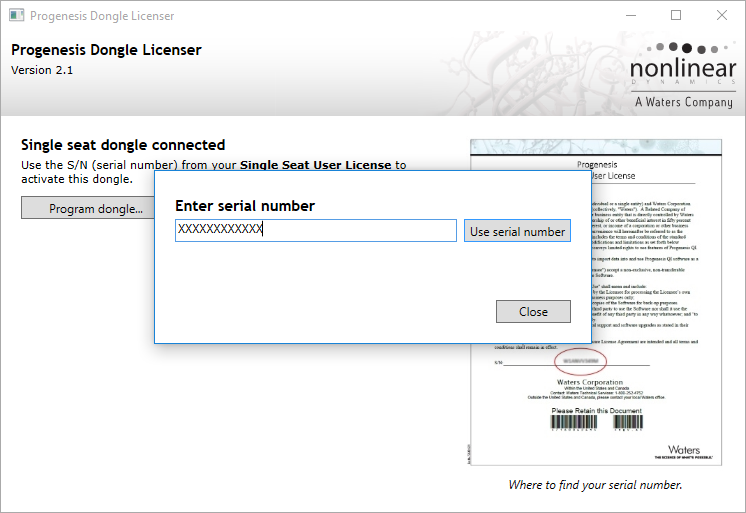 If you have a network dongle and multiple user licenses, you can repeat the process of entering serial numbers and activating them via the

Use another serial number

button (show me).
Once you have activated each of your user licenses, your dongle will be ready for use with Progenesis QI. This means you will be able to analyse your own data as well as the tutorial data.
Important: if you activated your licenses on a PC that you won't be using for your analysis, plug the dongle into the analysis PC now.
Troubleshooting
If you have any problems, please contact support@nonlinear.com and we'll be happy to help.