Exporting from Proteome Discoverer as Excel .xls or .xlsx
Performing the search
Load your .raw files directly into Proteome Discoverer to run a search.
Exporting results from Proteome Discoverer
Note: you will need Excel installed to export/import the search results
1. Select the necessary columns to export from Proteome Discoverer
For Proteome Discoverer results to be imported correctly you must make sure that the correct information is included in the export file. You do this by selecting which columns are displayed on the Proteins and Peptides pages.
If the necessary columns are not displayed click on the Column Chooser icon

located at the top left corner of each page. This will bring up a dialog which will allow you to activate the required columns.
The required columns are:
Proteins page:
Accession
MW [kDa]
Description
Peptides page:
Sequence
Charge
MH+ [Da]
m/z [Da]
ΔM [ppm]
RT [min]
Modifications
First Scan
Spectrum File
either XCorr or IonScore
2. Export the results as an Excel file
Select the Proteins page.
Right click on a Protein entry in the result table.
From the context menu which appears choose to create an Excel .Worksheet.
Select options to not leave any blank rows in the exported file.
Choose the first 2 options to include Peptide and Protein information.
Make sure that Group the peptides is not selected.
Import the Excel file into Progenesis QI for proteomics in the Peptide Search Stage.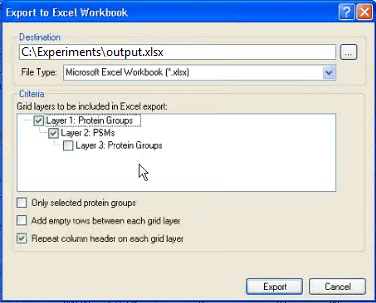 See also
More peptide search formats supported by Progenesis QI for proteomics.