Answer your biological question with Progenesis QI
Progenesis QI is small molecule discovery analysis software for your LC-MS data; a revolutionary 'difference engine' that works in a unique way to help you to answer your biological question.
"Progenesis QI has become the standard software for processing our metabolic profiling data; it has increased our processing speed, from aligning chromatograms up to identifications of significantly changed metabolites, with at least a factor of 10!"
Geert Goeminne
VIB Department of Plant Systems Biology, Ghent University, Belgium

Below are some key benefits that make multi-vendor Progenesis QI unique:
Obtain reliable and definitive IDs for the compounds in your samples
The built-in Metascope search engine enables ID of compounds using up to 5 different criteria including mass, RT, fragmentation spectra, CCS. Metascope can be used with many publicly available and in-house databases.
It's also possible to create and compile your own mass, RT or fragment spectra databases (for example, by running pure standards) for future validation of database hits.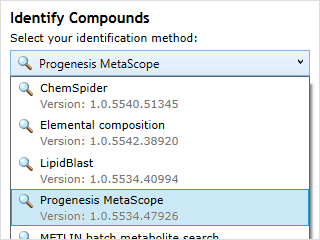 Click for full screenshot showing compound identification
Be confident in your analysis with reproducible results
The Progenesis co-detection workflow results in improved matching, peak picking and normalisation, which enables more efficient application of uni-variate and multi-variate stats, giving robust false positive correction and real confidence in your results.
Get results from data with a large amount of biological variation
The unique Progenesis co-detection workflow maximises the ability to find expression changes in your data.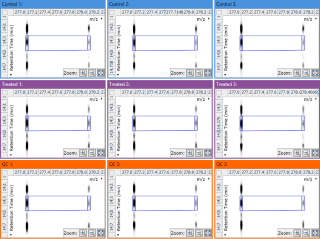 Click for full screenshot showing the results of our unique co-detection approach
Easy-to-use, highly visual and guided workflow
The transparent Progenesis workflow with clear data visualisations, mean you can:

Assess the suitability of your data from any instrument at the very start of your analysis
Easily understand your data, the analysis process and your results
You can handle highly complex samples
Peak modelling, analysis workflow and intelligent algorithms make Progenesis scalable to analyse large and complex data sets with many samples and comparison groups.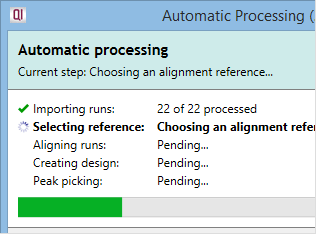 Click for full screenshot showing the start of the Progenesis workflow
So, you have seen the benefits, now understand how it works. You can download Progenesis QI and try it for yourself, on your own data.