How do I update my dongle to enable analysis in a new version of the software?


A typical hardware dongle
The analysis capabilities in Progenesis QI are enabled by use of either a hardware dongle or by entering sample licence codes when prompted by the software.
Hardware dongles are typically provided when the software has been purchased, allowing analysis of all of your data in the purchased version of the software. When you install a new version of the software, however, you may need to update your dongle to allow analysis in that version.
Updating your dongle
If your dongle is not configured for use with the version of the software you're using, when you first try to move beyond the Import Data screen in the workflow, you'll be shown the Licensing screen: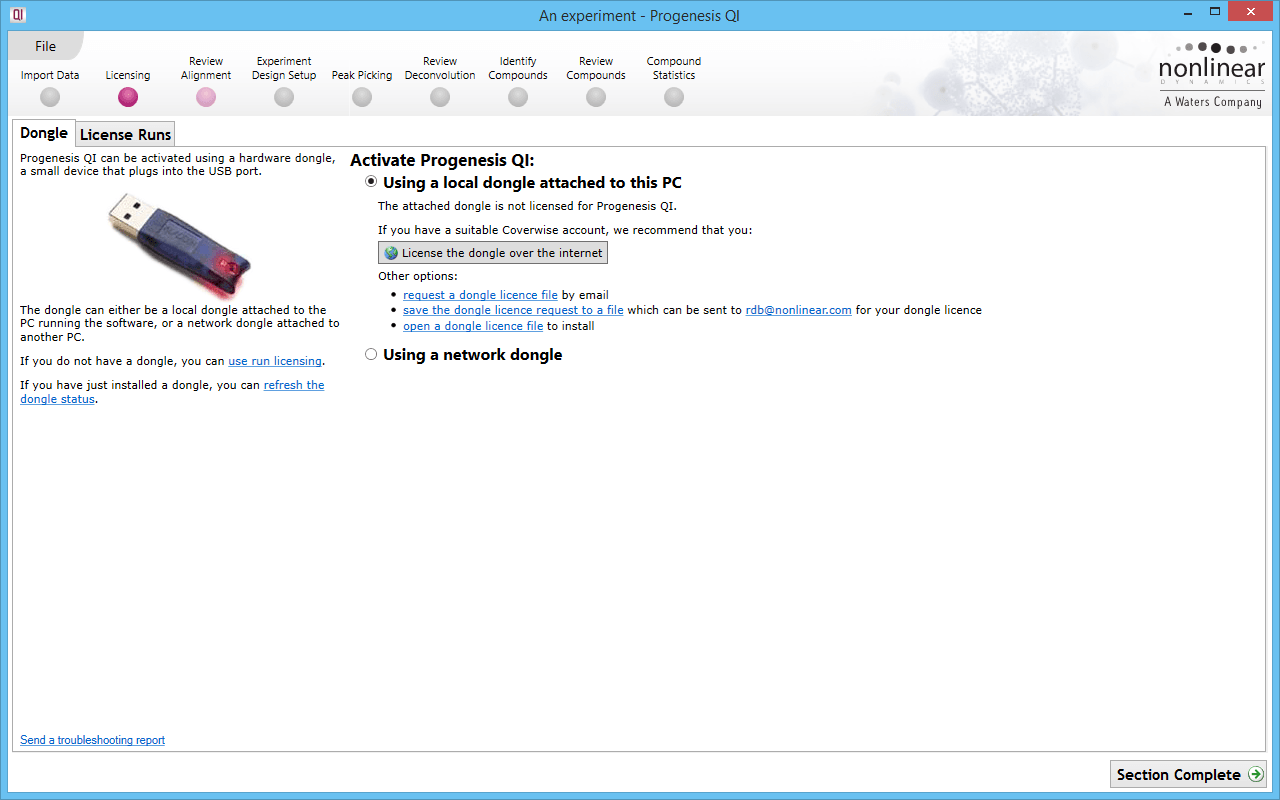 Here, on the Dongle tab, you'll see a message that says:
"The attached dongle is not licensed for Progenesis QI."
You will also be given a number of options for enabling analysis:
Automated licensing via the internet (recommended)
Requesting and installing a dongle licence file
Note: to update your dongle, it must be inserted into one of the USB connections on the PC on which the software is running.
Option 1: Updating your dongle via the internet
This is the recommended approach. To update your dongle via the internet, simply click the button named License the dongle over the internet.
Assuming your PC has an internet connection and your support account entitles you to the upgrade, this method should take just a few seconds to complete.
Option 2: Requesting and installing a dongle licence file
This second option can be useful if your internet access is limited by a firewall. The process is still quite simple, but not quite as automated:
Click the

Request a dongle licence file

link
When the email appears, make sure it has its attachment (instructions are in the email) and hit Send
When you receive a reply containing a dongle licence file, save that to a folder on your PC
Either:

In the

Licensing

screen, click on the

Open a dongle licence file

link, select the file you just saved and click

Open

, or
Double-click on the saved file to install it and then click the

Refresh the dongle status

link in the

Licensing

screen
If clicking the "request a dongle licence file" link doesn't work, then you can click the Save the dongle licence request to a file link instead. Attach the saved file to an email and send it to rdb@nonlinear.com and continue the process from step 3 above.
After the update, the options will change to show that the dongle has been licensed (show me). You can then continue to the next step in the analysis workflow by clicking the Continue using the product link.
If you have any difficulty with either of these methods, please contact our support team.
See also